Discover a world of fitness and performance with Galaxy Watch6 & Watch6 Classic, designed to elevate your workouts and keep you connected on the go. Track your progress effortlessly with fitness tracking that provides insightful data on duration, distance, calories burned, and more. Whether you're a runner, or swimmer, or indulge in over 90 other exercises, these smartwatches automatically recognize your activities to offer seamless tracking.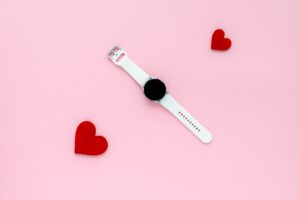 Experience Bigger, Better, and Bolder: Our largest watch screen yet delivers a visually immersive experience and enhanced app navigation. With durable crystal glass, your screen remains protected, ensuring uninterrupted adventures.
Stay Connected Anywhere: Sync seamlessly with your Galaxy devices for hands-free calls, messages, and more. This watch is your ultimate companion for staying connected on the move.
Personalize Your Intensity: Achieve your workout goals with personalized heart rate zones tailored just for you. Whether you're taking a casual jog or pushing yourself to the limit, these heart rate zones help you reach your desired intensity level.
Heart Health Made Simple: Take charge of your heart health with heart monitoring. Be alerted to any irregular rhythms suggestive of AFib, ensuring you're always in sync with your body's well-being.
Body in Balance: The advanced BIA sensor provides insights into body composition, including body fat, skeletal muscle, body water, BMI, and more. Stay informed about your progress and achieve a healthier you.
Make a Style Statement: Match your mood and style with a wide variety of interchangeable bands, easily swappable with one simple click.
Power-Packed Performer: Galaxy Watch6 offers up to 40 hours of continuous usage on one full charge, with a quick 30-minute charge bringing you to 45%. Stay powered up and ready to conquer your day with ease.
Experience the ultimate fusion of style, fitness, and performance with Galaxy Watch6 & Watch6 Classic. Own your day and make every move count!